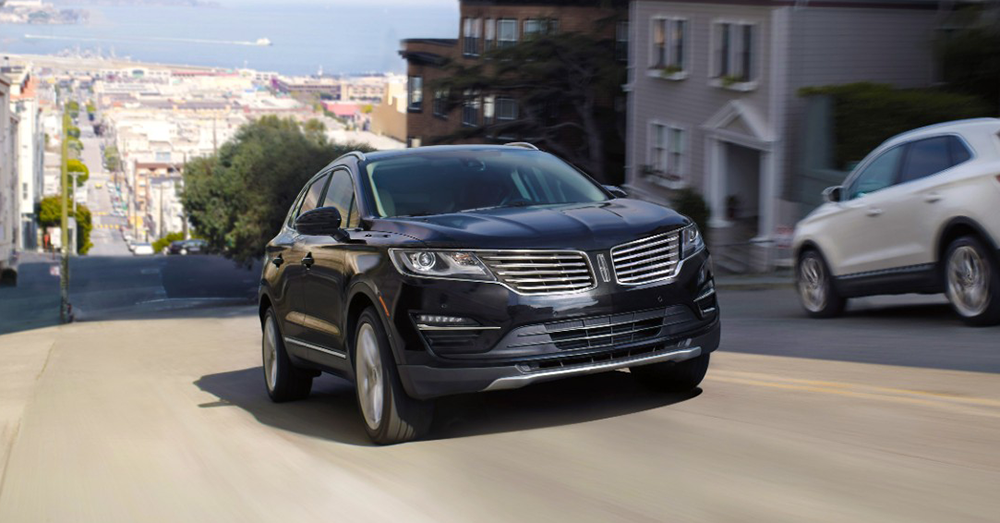 The 2017 Lincoln MKC is increasingly popular thanks to its wealth of technological features, performance, ample comfort amenities and a host of safety feats that give drivers peace of mind on the road.
Under the Hood
Lincoln engineers equipped the MKC with two engine options. A turbocharge 2-liter GTDI four-cylinder engine produces 240 horsepower. The 2017 MKC with a turbocharged 2.3-liter GTDI four-cylinder engine puts out 285 horsepower and 305 pound-feet of torque.
The engine is teamed with a six-speed select-shift automatic transmission with manual shifting capability handled by steering wheel-mounted paddle shifters.
Two-wheel drive is standard, but drivers can opt to equip their MKCs with all-wheel drive, which provides increased handling and performance, as well as safety, since in the case of a wheel losing traction, power is automatically diverted to other wheels.
Comfort and Convenience
All 2017 MKCs are packed with comfort amenities, but top-end models have features such as 10-way power-adjustable driver and front passenger seats with seat heaters and ventilation. A 60/40 split folding rear seat provides for multiple passenger seating and cargo carrying configurations.
Active noise control ensures a quiet ride, and dual-zone automatic temperature control ensures all occupants are comfortable regardless of exterior conditions.
A power lift gate is now standard equipment on all models.
The 2017 Lincoln MKC is designed to incorporate technology to make the driving experience easier and less stressful.
Most noticeable when it comes to technologies is the SYNC 3 plus Apple CarPlay and Android Auto system, which links smartphones better than ever to the vehicle. Simple voice commands make the vehicle's technologies seem less like a computer and more like a personal assistant. Everything from hands-free vice calls, text messaging, audio streaming and the advanced turn-by-turn navigation system are easily controlled by drivers while they keep their hands on the wheel and eyes on the road.
Safety
Powerful four-wheel antilock disc brakes stop the 2017 Lincoln MKC quickly, and stability control works with traction control to help keep the vehicle on the driver's intended course.
In the event of a collision, occupants are protected by a full set of airbags, including front, side and side curtain airbags. Three-point seat belts are standard at all seating positions, and the LATCH system ensures child seats can be safely secured in the vehicle.
A rearview camera makes reversing safer and easier, and a host of other safety features are available, such as lane departure warning and adaptive cruise control.