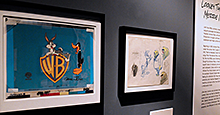 Bugs Bunny and Daffy Duck are hitting the road this year.
The tour is part of an exhibit honoring Chuck Jones, their relatively obscure yet influential and amazingly talented creator.
Jones entertained millions without ever being directly involved in their lives. The artist and writer during the golden age of Warner Bros. cartoons introduced us to beloved characters who quickly became cultural touchstones. His work is the subject of a travelling Smithsonian exhibit crisscrossing the nation the next few years.
His animation cels, sketches, storyboards and more are on display thanks to an exhibit sponsored by the Smithsonian Institution Traveling Exhibition Service. Other sponsors include the Academy of Motion Picture Arts and Sciences and the Chuck Jones Center for Creativity.
Bugs Bunny, Daffy Duck, Elmer Fudd, the Road Runner and Wile E. Coyote are just a smattering of the beloved characters created by Jones, who made more than 300 animated films and won three Oscars during a 60-plus year career that culminated with his work becoming indelible pieces of Americana.
Lasting impact perhaps best defines an artist's genius. Though Jones wrote his last Looney Tunes cartoon in 1964, the characters remain relevant to this day. Bugs Bunny, Porky Pig, and Sylvester Cat (with help from Bill Murray and Michael Jordan) defeated monsters in a high-stakes basketball game in the 1996 classic Space Jam. The film remains the highest-grossing basketball movie of all-time.
Some of Jones' most famous cartoons are included in the exhibit. One such classic, "What's Opera, Doc?" is part of the National Film Registry. The Library of Congress declared the 1957 cartoon "among the most culturally, historically, and aesthetically significant films of our time."
The exhibit shows at the Fort Worth Museum of Science and History in Texas through April 26. The next stop is Seattle's EMP Museum, where aside from a two-week hiatus in late September and early October, the exhibit will stay the rest of the year.
For more information, visit www.sites.si.edu/chuckjones/index.htm