Most people look at a hole in the ground and take a detour. Paul Burger looks at it and crawls in.
Burger is a geologist by training, adventurer by spirit. And he has seen the world from inside out by peaking into the nooks and crannies of earth's subterranean landscape.  What he has discovered is a growing, changing world hidden by darkness.  
"There's an opportunity to put your foot where no one has gone before," said Burger, author of Cave Exploring: The Definitive Guide to Caving Technique, Safety, Gear and Trip Leadership.
"While extreme cave exploration may not be for everybody, commercial tours and caverns expose people of all ages to what lies beneath their feet."
Forget the creepy caverns of Lord of the Rings. There is no Gollum or gigantic tarantula or people of the middle earth. There are beautiful cathedrals, rock formations, varicose veins of glittering quartz and crystalline chandeliers formed over millennia by earth's drippy plumbing. 
Burger admitted he was an unlikely candidate to take up what is known as "wild caving," or raw cave exploration. Afraid of heights, afraid of darkness, claustrophobic—Burger did not exactly have the requisite skills of a spelunker. 
"The thrill of adventure quickly overtakes fears," Burger said. "You can wander in a lot of directions."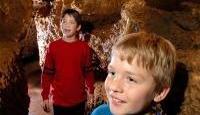 How does he keep from getting lost? Using a trhead of yarn? 
"You don't use string to navigate a cave," Burger said. "The only possible place people could have gotten that idea is by reading Tom Sawyer. I've been in caves that look like a spider's web." 
Wild cavers never go alone, always tell friends or family where they are heading and talk to local experts before making the journey. 
"The more you see the more you want to know why caves formed and how they formed," said Burger, who also is a hydrologist for the National Park Service. "You get into a whole cycle of learning—mountain building, collision of continents, the remnants of Pangea.  You get a local perspective on a global event." 
There is no reason to visit remote areas or crawl on your knees to see the wonders of America's diverse caves.  There are 142 commercial facilities, also known as "show caves," scattered around the country. 
"Most sites fit into day travel schedules," said Eric Evans, president of the National Caves Association and operator of the Ohio Caverns.  "It's very affordable for a family." 
Most of the sites offer historical and geological guided tours as well as a cool escape for summer heat. Average temperature inside is about the same as the mean temperature for the region.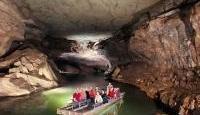 "Commercial caverns are very accessible," Evans said.  "We always encourage people to bring their cameras." Evans has toured show caves throughout the United States. 
Here are some of his top recommendations: 
 "People often think that if they've seen one cave they've seen them all," said Evans, who has visited more than 70 show caves. "I've never been in any two alike."