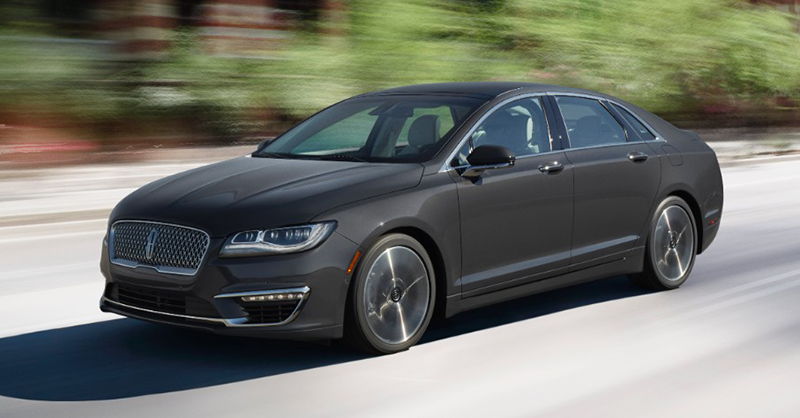 The all-new Lincoln MKZ is the perfect package of refined luxury, impressive performance and sleek styling in a sedan that's as comfortable on the morning commute as it is heading out on the highway on the weekend, and it has advanced safety features to give drivers peace of mind on the road.
Under the Hood
Lincoln engineers equipped the 2017 MKZ with two engine choices. A turbocharged 2-liter four-cylinder engine puts out 245 horsepower and 275 pound-feet of torque. Upgraded models feature the twin-turbocharged 3-liter V6 engine offering 400 horsepower (350 in front-wheel-drive configurations) and 400 pound-feet of torque.
Both engines are teamed with a six-speed automatic transmission with manual shift capability controlled through steering wheel-mounted paddle shifters.
The vehicle is available in both front-wheel-drive and all-wheel-drive configurations, with the latter providing superior cornering and traction, especially on slick road surfaces.
Comfort and Convenience
Drivers will notice something missing in the 2017 Lincoln MKZ — excessive road noise. That's because Lincoln designers built the vehicle to be quieter, with an advanced active noise control system and intelligently placed sound-deadening materials used throughout the construction.
The push-button gear shift and "floating" center console showcase Lincoln's leading stylistic nuances, making a vehicle that's less cluttered and more comfortable.
Technology is at the center of the 2017 Lincoln MKZ, and drivers will enjoy the ease of parallel parking thanks to the available enhanced park assist, which helps the vehicle steer into a parallel or perpendicular parking spot.
Drivers who opt for the Revel audio system are treated to concert-quality sound, and it is available in both 14- and 20-speaker configurations for maximum audio performance.
The vehicle's infotainment system syncs with smartphones for hands-free voice calls, audio streaming and mobile app integration. Intuitive voice commands make controlling the vehicle's technology simple.
Safety
The 2017 Lincoln MKZ stops quickly thanks to the four-wheel antilock disc brakes with brake assist. The auto-hold feature on the vehicle means that once the vehicle is stopped, drivers will need to press the accelerator before it will move again, making driving in stop-and-go traffic much easier.
AdvanceTrac traction/stability control helps keep the vehicle on the driver's intended course.
The available pre-collision assist with pedestrian detection and adaptive cruise control with stop-any-go capability help prevent collisions as well.
In the event of a crash, occupants are protected by a full set of airbags as well as three-point seat belts at all seating locations.